During the members meeting of the Hallberg-Rassy Connectie on November 17, 2018 in Loosdrecht, Frederik van der Dussen, introduced the "Poerstamper-Goblet" which was unveiled by Robbert-Jan.
Some members had addressed the board about it: Robbert-Jan Poerstamper is doing an extraordinary job as a volunteer for our Connectie! A commitment that must be appointed. The secretary, Frederik van der Dussen indicated in the AGM by means of an anecdote: "A few weeks ago I met the 'Nelson', the HR 43 of Robbert-Jan and Lineke at the Grevelingen. We sailed at the same time, but the Nelson had trouble keeping up with my HR 342 'Kittiwake'. I sent an app message in a teasing way: "just tighten the genua halyard and you can sail much better up wind…". As an answer, I did NOT get an app about the fact that 'Nelson' didn't want to sail that high at all or an expected story about bad anti fouling or something alike …. No, I got an app about the payments for the Captain's dinner, an app about a new member and an app about a spelling error on our website, which really needed to be corrected! Looking back I saw that Lineke, Robbert-Jan's wife, was now at the helm as an accomplished solo player. Instead of controlling Nelson, Robbert Jan controlled, from behind the chart table, the Association!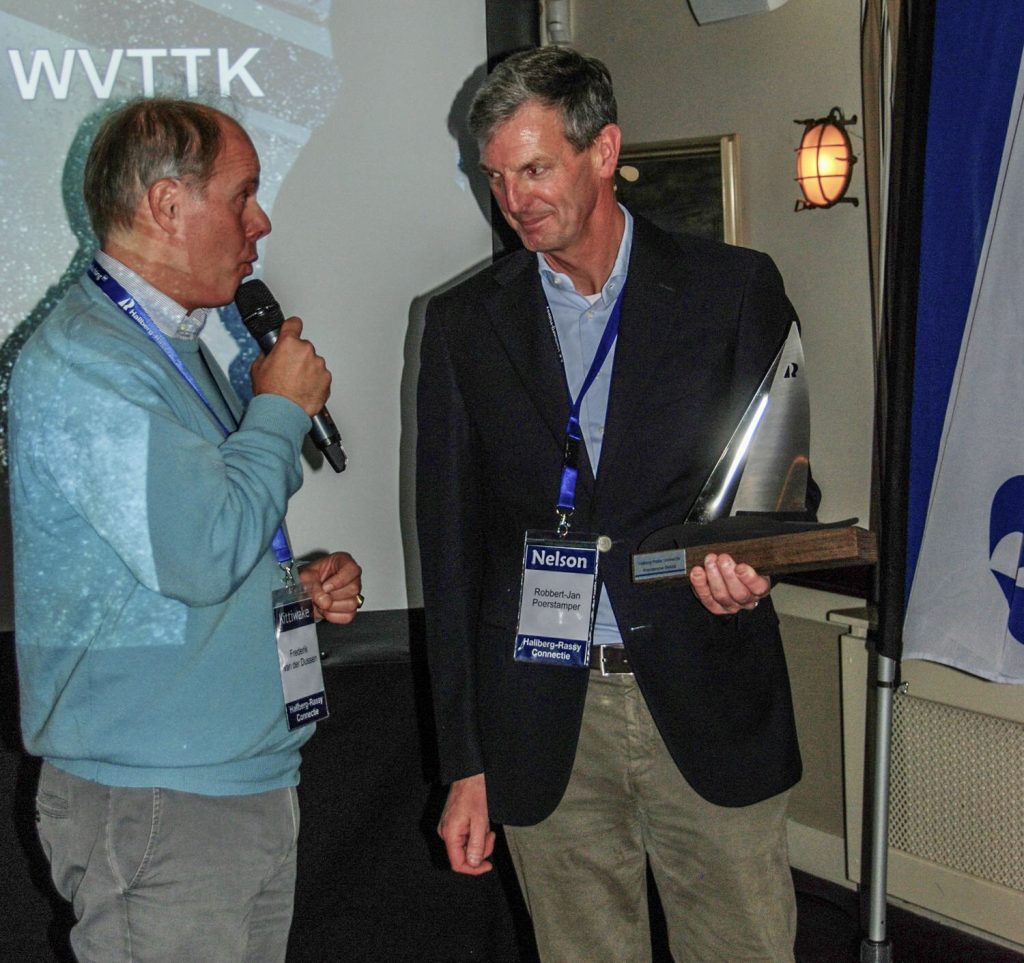 POERSTAMPER GOBLET IS PASSED ANNUALLY WITHIN THE CONNECTION
Het bestuur heeft zonder medeweten van de voorzitter, een wisselprijs ingesteld om de bijzondere inzet van Robbert Jan Poerstamper te benoemen en te roemen, en hiervoor een bokaal laten ontwerpen en vervaardigen.
Een heuse "Poerstamper bokaal", die jaarlijks zal worden uitgereikt aan een lid dat zich bijzonder heeft ingezet voor de Connectie. De bokaal is in het leven geroepen om een vrijwilliger te onderscheiden, die zich bijzonder verdienstelijk heeft gemaakt voor de Hallberg-Rassy Connectie, als vereniging of anderszins, zolang het maar bijgedragen heeft aan het plezier van de leden van de Connectie.
Het is daarbij aan degene die de bokaal in zijn/haar bezit heeft een volgend winnaar aan te wijzen. Tijdens het jaarlijkse captain's dinner of de ALV moet de bokaal als wisseltrofee worden doorgegeven aan een ander lid dat zich onderscheidend heeft ingezet voor de Connectie.
Op de bokaal zullen alle winnaars worden vereeuwigd d.m.v. een naamplaatje waarop de bootnaam en het jaartal van uitreiking zullen worden vermeld.
Op een speciale pagina van de website zal worden bijgehouden, wie deze prachtige bokaal in zijn/haar bezit heeft (gehad).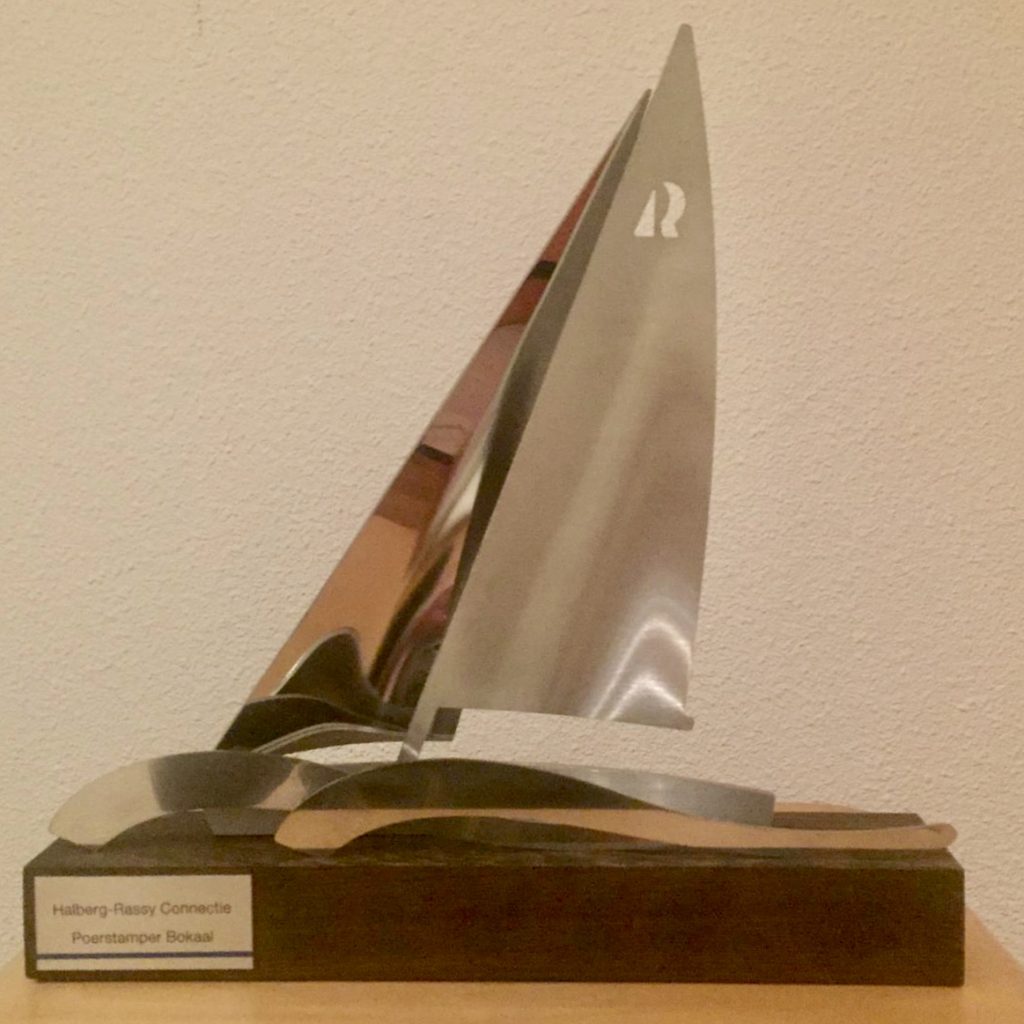 Mira Straathof van de SeaQuest winnaar 2018
This year -the first year- is after unveiling by Robbert-Jan Poerstamper, the goblet by the board awarded to Mira Straathof (Sy Seaquest) for her special commitment to building (during the stay with her family in the USA) our beautiful website. The fantastic website proved to be of great importance at the start of our association. The website is also widely praised. The association is therefore very happy with the enormous contribution that Mira has made to the association. A contribution, which can certainly be honored with the Poerstamper goblet and which she has received under a big applause of the members.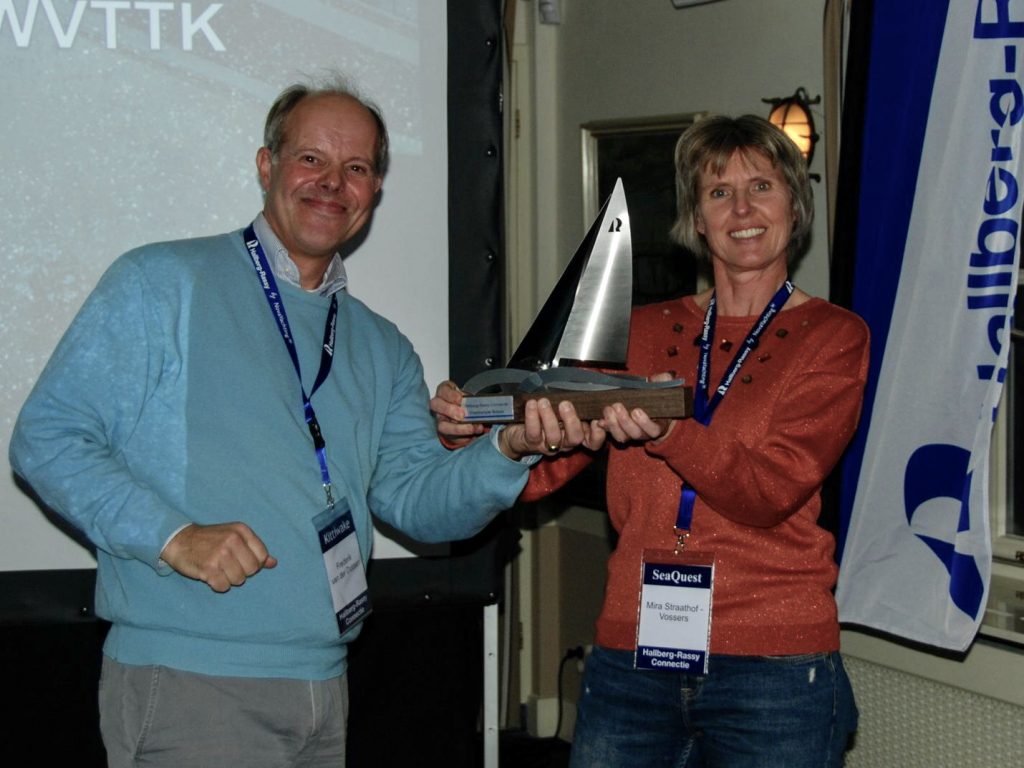 Frederik van der Dussen
Secretary
The Poerstamper goblet is given by the SeaQuest:
De prachtige Poerstamper bokaal heeft een jaar lang op een mooie plaats in onze woonkamer gestaan en nu is het aan mij de eer om hem tijdens het Captains dinner weer door te geven aan de volgende vrijwilliger. Aan iemand die het afgelopen jaar is opgevallen door inzet voor de connectie.
Dat is geen eenvoudige opgave in een vereniging met zoveel fanatieke vrijwilligers, een connectie met een fanatiek bestuur en waar zoveel mooie evenementen in één jaar worden georganiseerd.
Toch heb ik er niet lang over na hoeven denken. Al snel viel mij het koppeltje Tom en Lidia van de Mariste op. Zij hadden een belangrijke rol in het organiseren van een geslaagd voorjaarsevent in Enkhuizen. Dat heb ik als opstapper op de Mariste van dichtbij mogen meemaken. Ook hebben ze voor de tweede keer op rij het Hiswa event in Lelystad georganiseerd. Door de enthousiaste inzet van Tom en Lidia is 'noord' heel goed op de kaart gezet binnen de connectie. Een geolied duo!! En daarmee ook twee vliegen in één klap … de bokaal gaat naar de Mariste (die naam komt op de bokaal) maar ook naar Tom én Lidia. Veel plezier met de bokaal het komend jaar en geef 'm maar een mooi plekje.
Lidia en Tom van Disseldorp van de Mariste winnaar 2019
Afgelopen zaterdag hebben we genoten van een fantastische dag in Antwerpen.
Lidia en ik waren zeer verrast dat wij van Mira van de SeaQuest de "Poerstamper bokaal" in ontvangst mochten nemen.
We werden bedankt voor wat we met heel veel plezier voor de Connectie hebben gedaan. We zijn er echt vereerd mee en we mogen een heel jaar nadenken aan wie we de bokaal volgend jaar zullen overhandigen.
We maken ons op voor een nieuw jaar met mooie events en hopen velen van jullie weer te ontmoeten.
Kind regards, Lidia and Tom van de Mariste